Other Attractions
The District Courts, Patiala
The courts are now housed in modern multistoried buildings near Lahori Gate. All the work from filing of a case to the pronouncement of the judgment is now computerized. Computer training has been provided to the entire staff. Each lawyer has his own chamber on the court premises.
The Central Library:
The Central Library on the Mall Road is next point of attraction after the district court. The library has a large collection of all kinds of books. It is one of the oldest complexes in Patiala.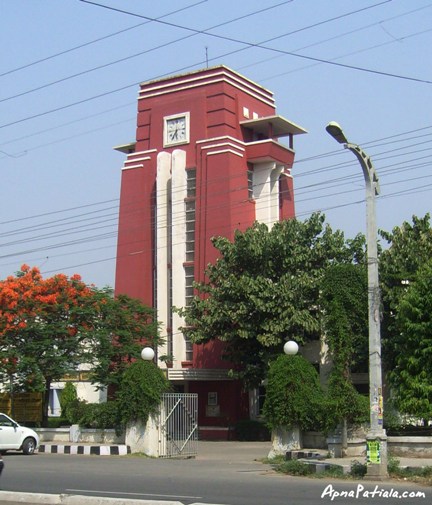 The Mall Road
This is a magnificent boulevard in the city. On one side is the old walled city and on the other side lie the beautiful Baradari Garden. On the road lie the Capital, Phul and Malwa cinemas. There is a beautiful fountain on a traffic roundabout opposite the Phul cinema. Nearby lies a famous sweets shop, Gopal Sweets, and dhabas (Punjabi-style eateries) like Sheetal and Nagpal's. Also on the Mall Road lie the Muslim shrine of Peer Baba Rodey Shah, the head offices of the State Bank of Patiala and the Punjab State Electricity Board. The most famous landmark on the Mall Road is the famous Hindu temple of Kali Devi, which is also a national monument. There is a small lake next to the temple. The huge Omaxe Shopping Mall has recently come up opposite the Kali Devi Temple. The mall has proved to be extremely popular with the residents of the city. It houses food courts like the MacDonald's, a Walmart (Easy Day) retail store, film theatres (multiplexes) and a growing number of showrooms of Indian and foreign companies. Next to the Mall is the old Green Hotel and Restaurant which also runs a bar.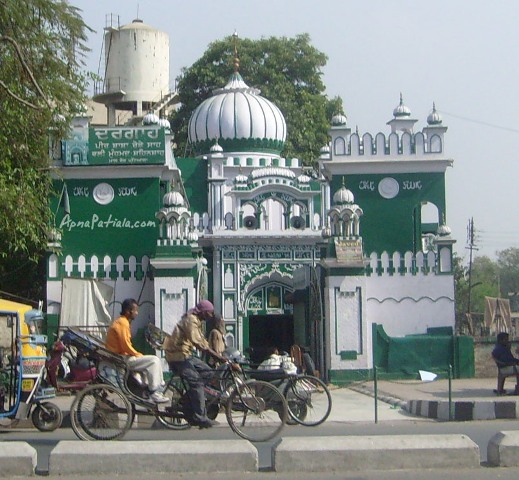 Adalat Bazaar
As one enters the city from the side of the Sheranwala Gate and proceeds towards the Quila Mubarak, one comes to the narrow Dharmpura Bazar. Further up, one comes to the Adalat Bazaar, a thriving shopping centre. This area is the downtown part of the city. Adalat Bazaar means 'the court corridor'; till the then underage king grew up, this area was used as the administrative centre by the caretakers of the king.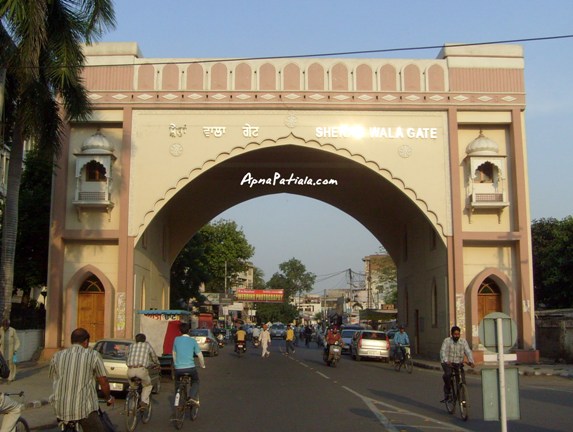 The Rajiv Gandhi National University of Law
It was established in 2006 by the Punjab government. It is the first national law school of the northern region. Presently, this university is operating from an old building called the Mahendra Kothi but soon it will be shifted to its new location at Siduwal village on the Bhadson Road outside the city. The university is approved by the UGC.
The Phowara Chowk (The Fountain Square)
The square is a beautiful sight in the evening when the fountain with coloured lights built on a traffic roundabout is played. The square is crowded with people visiting the nearby cinemas or those who have come for sweets and food at the nearby eateries of Gopal, Sheetal, Nagpal and others.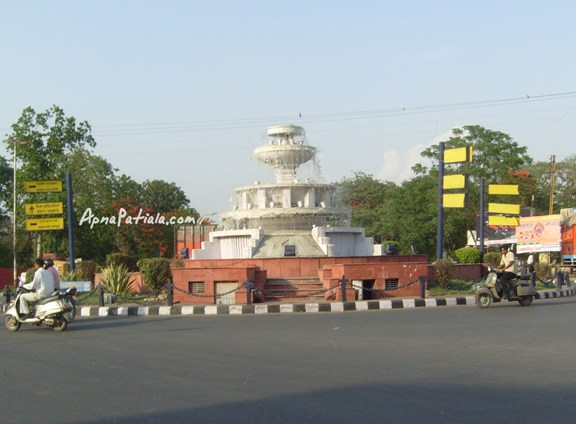 The Leela Bhawan, Surya Complex, the City Centre and the '22 No. Phatak' (railway crossing) Shopping Zone
This area has rapidly developed into the commercial centre of the city. The area has a large number of banks; offices of insurance and immigration companies; coaching institutes teaching English to students planning to go abroad; restaurants and eateries like Gopal's and Sahni's and Verma's and retail showrooms selling high-end branded garments, shoes and electronic goods.

An ultra-modern Columbia Hospital providing world-class medical care has now come up in the area.
Earlier, the area also had several open air banquet halls, locally called 'marriage palaces'. Most of these have now closed down. New marriage palaces have come up on the Sirhind Road, Bhadson Road and Rajpura Road slightly outside the city.

Modern hotel and restaurants in Patiala
In the recent few years a few high class hotels have come up in Patiala: The Narain Continental and The Iqbal Inn. A high-class heritage hotel run by the Neemrana group called the Baradari Palace has now come up next to the Baradari Garden. It has had visitors ranging from foreign delegates and many leading actors from Bollywood.

Connectivity: Patiala is about 250 kilometers from New Delhi by road. It is also accessible by train. However, its airport can take only small aircraft.

Category: