Born – 12, October 1891
Royal Reign- 1900 to 1938
Dynasty – Phulkian
Preceded by – Rajinder Singh (Maharaja and father)
Succeeded by – yadaviner Singh (Son)
Died – March 23 1938 (age 46)
From the year 1900 to 1938 Maharaja Bhupinder Singh, GCSI, GCIE, GCVO, GBE was the Maharaja of the Princely state of Patiala and his reign was from 1900 to 1938.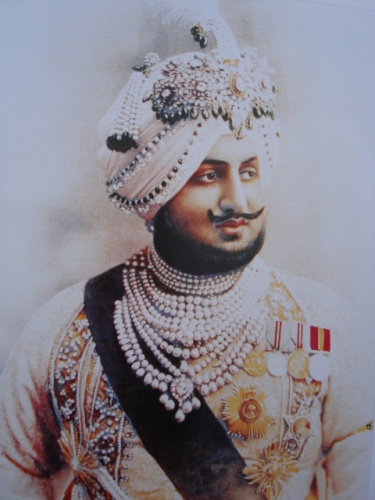 Biography
Bhupinder Singh was born at the Moti Bagh Palace, Patiala and completed his education at Aitchison College. He succeeded as Maharaja of Patiala upon death of his father, Maharaja Rajinder Singh, on 9 November 1900 at the age of 9. Shortly before his 18th birthday, a Council of Regency ruled in his name until he took partial powers on 1 October 1909, and by the Viceroy of India, the 4th Earl of Minto was invested with full powers on 3 November 1910.
During the First World War, Bhupinder Singh served as Honorary Lieutenant-Colonel, and later on, got promoted as Honorary Major-General in 1918 and Honorary Lieutenant-General in 1931 on the General Staff in France, Belgium, Italy and Palestine. Apart from representing India at the League of Nations in 1925, he was also the Chancellor of the Indian Chamber of Princes during 1926 and 1938 (10 years). He was also a representative at the Round Table Conference. While he served as the Chancellor of Chamber of Princes from 1926 to 1931, he worked tirelessly for the betterment of his subjects, and got many social reforms introduced in Patiala. He is also the Founder of The State Bank of Patiala.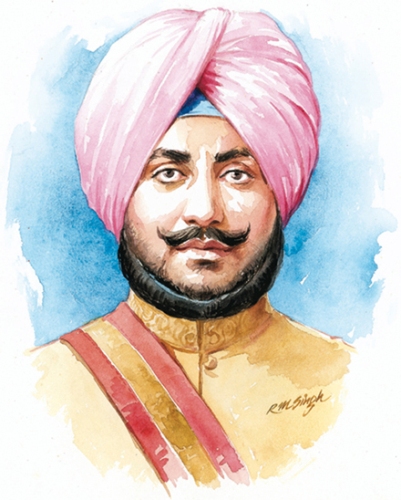 Personal Life
Bhupinder Singh was born in a Royal Sikh family to Maharaja Rajinder Singh. He married at least 10 times. Apart from his wives, he also had numerous consorts. From those unions, he had 88 children (estimated) of whom at least 53 survived him.
Wives and consorts
Her Highness Maharani Sri Bakhtawar Kaur Sahiba (1892–1960) (Daughter of Sardar Gurnam Singh, Sardar Bahadur of Sangrur, OBI) Married Bhupinder Singh in 1908.
Of the 10 wives (apart from the numerous concubines), the most notable of his wives were the four princesses from a Himalayan kingdom, who were sisters, and were said to be his favorite Queens. However, it was Bakhtawar Kaur Sahiba, however, who took part in the official ceremonies as the Maharani.
He was the proud owner of the world famous "Patiala Necklace", which was manufactured by the famous brand Cartier SA. To mark the first visit of Queen Mary to India his wife Maharani Bakhtawar Kaur presented her at the Delhi Darbar of 1911a magnificent necklace on behalf of the Ladies of India. His elder son, Maharaja Yadavindra Singh and younger son Raja Bhalindra Singh played first-class cricket and later served as President of Indian Olympic Association. Yuvraj played in one Test for India, in 1934.
Hobbies
His desires can be known by the fact that he was the first man in India to own an aircraft, which he bought from the United Kingdom in the first decade of the twentieth century. He had an airstrip specially built for it at Patiala. He also got a unique monorail system built in Patiala, which was known as Patiala State Monorail Train ways.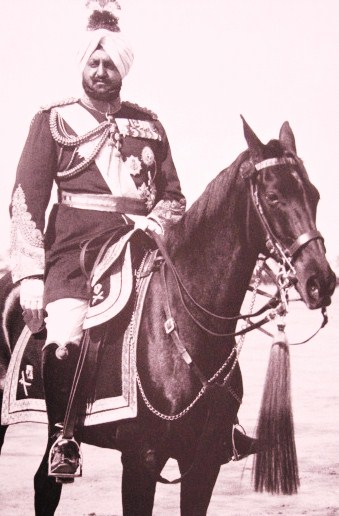 Sportsman
He was a renowned sportsman who built the world's highest cricket pitch at Chali at a height of 2443 m in 1893, which is the highest in the world. He was also known for an exceptional collection of medals, believed to be the world's largest at the time. According to legend, Maharaja Bhupinder Singh would be driven in a motorcade of 20 Rolls Royce cars.
He is best known for his extravagance and for being a cricketer. His cricket and polo teams — Patiala XI and Patiala Tigers — were among the best of India. He was a great patron of sports, for which he was also the most famous Maharaja of Patiala.
During 1915 and 1937, he played in 27 first-class cricket matches and was also the Captain of the Indian cricket team that visited England in 1911. He played as member of Marylebone Cricket Club for the season of 1926/27. In honor of Kumar Shri Ranjitsinhji, Jam Sahib of Nawanagar he donated the Ranji Trophy. He was selected as the captain of India on its first Test tour of England in 1932, but due to bad health he had to drop out two weeks before departure and the Maharaja of Porbandar took over. His elder son, Maharaja Yadavinder Singh and younger son Raja Bhalinder Singh played first class cricket, and later served as President of Indian Olympic Association. Yuvraj played in 1934, in one Test match for India also. Most of the buildings of Chail Military School were donated by Maharaja of Patiala to the government of India.
His Royal Power
In 1930, Maharaja Bhupinder Singh felt a little low at the British Rolls Royce company's refusal to accept an order from him for a new Rolls Royce car. Such was his power that he ordered new Rolls Royce cars, and put them to hauling garbage, dung and filth in Patiala city. To which the chagrin of the all-powerful Rolls Royce-loving Viceroy and the British ruling establishment quickly prevailed upon the Rolls Royce Company to comply with the Maharaja's wishes by giving him a new Rolls Royce.
Later Succession of his Son
Yuvraj Yadavindra Singh became the Maharaja on 23 March 1938. He was the Maharaja, who agreed to Incorporate Patiala into the newly independent India on 5 May 1948, becoming Rajpramukh of the new Indian state of Patiala and East Punjab States Union.
His Highness' grandson Captain Amarinder Singh is a politician in India, and served as Chief Minister of Punjab from 2002 to 2007.
Interesting Tales told by the Courtiers
To get the affection of the Maharaja, there was always a fierce rivalry, and the Maharaja used his considerable diplomatic abilities to keep them all happy and content.
One such story is of the legendry Patiala watch. At the Delhi Darbar of 1911, the old Maharaja had purchased a beautiful gold pocket watch with moon phase for Maharani Bakhtawar Kaur. As a result, there was a lot of discord amongst his wives especially from the four Rani Sisters. In order to keep the four sisters happy, the Maharaja ordered four unique gold watches, with very ornate and beautiful gold cases in 22 carat gold and added features of a day and month calendar as well as the phases of the moon, which were grander then Maharani's watch. The Maharaja used the services of a Swiss-based jeweler called F. Russer who was a jeweler to several members of the Royal family of Kapurthala.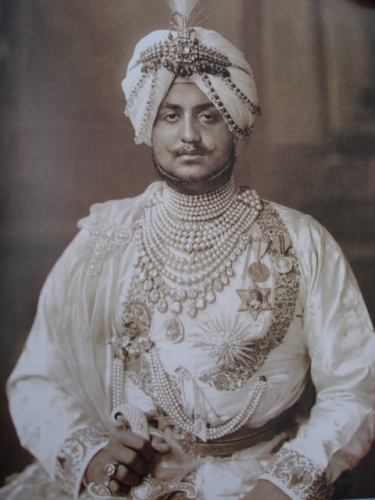 He was also known for an exceptional compilation of awards, thought to be the world's biggest at the time. According to legend, Maharaja Bhupinder Singh would be driven in a motorcade of 20 Rolls Royce cars.
MEDALS
Knight Grand Commander of the Order of the Indian Empire (GCIE) 1911
Knight Grand Cross of the Order of the British Empire (GBE) 1918
Knight Grand Commander of the Order of the State of India (GCSI) for war honors, New Year honor 1921
Knight Grand Cross of the Order of the Royal Victorian Order (GCVO) 1922
Apart from these he also got other medals from various countries.
On March 23 1938 the Maharaja left for his heavenly drift. As a tribute to him the Unani College was named after him as the Bhupinder Tibbi College.
Honors :-
British
• Delhi Durbar Gold Medal in the year 1903
• Delhi Durbar Gold Medal in the year 1911
• King George V Coronation Medal in the year 1911
• Knight Grand Commander of the Order of the Indian Empire (GCIE) in the year 1911
• 1914 Star
• British War Medal in the year 1918
• Victory Medal in the year 1918
• Mentioned in Despatches in the year 1919
• Knight Grand Cross of the Order of the British Empire (GBE) in the year 1918
• Knight Grand Commander of the Order of the Star of India (GCSI) – for war services, New Year Honours in the year 1921
• Knight Grand Cross of the Royal Victorian Order (GCVO) in the year 1922
• King George V Silver Jubilee Medal in the year 1935
• King George VI Coronation Medal in the year 1937
Foreign
• Grand Cross of the Order of the Crown of Italy in the year 1918
• Grand Cordon of the Order of the Nile of Egypt in the year 1918
• Grand Cordon of the Order of Leopold of Belgium in the year 1918
• Grand Cross of the Order of the Crown of Romania in the year 1922
• Grand Cross of the Order of the Redeemer of Greece in the year 1926
• Grand Cross of the Order of Charles III of Spain in the year 1928
• Grand Cross of the Order of the Wh