Punjabi University
Punjabi University was established on April 30, 1962 for the promotion of Punjabi literature, art and language. The campus is located on the Patiala- Chandigarh road. It is just 7 km from the city of Patiala. It is still the largest university in the state. The campus is spread over an area of 600 acres. Its faculty includes 500 lecturers. The strength of the students doing various courses is 9000.There are a total of 65 teaching and research departments at the university.
Six neighborhood campuses, five regional centers and 166 colleges are affiliated to the Punjabi University.
The university has set up a special Punjabi Reference Library. This library takes the responsibility of catering to the overseas Punjabis. Around 120 periodicals and newspapers published in world are available here. It also has manuscripts of the 19th and 20th centuries. The main library has a stock of 5,00,000 volumes and 600 journals. It has a grand reading hall for the readers. Online Public Access Catalogue is another feature of this library.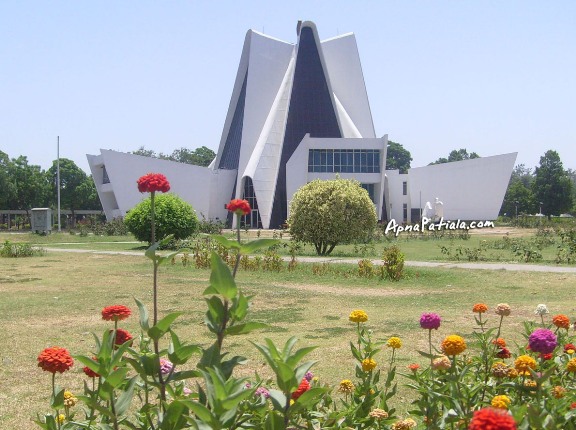 Centre for Teaching of Punjabi as a Foreign Language (CTPFL)
This is could be an important medium for a truly global society. The Advanced Centre for Technical Development of Punjabi Language, Literature and Culture (ACTDPLC) is in the process of developing a software which could interchange Gurmukhi and Shahmukhi. For the development of overseas-based Punjabi youth, the university has started many short-term linguistic programmes. These programmes help to preserve Punjabi culture and heritage. A World Punjabi Centre is also based on the campus. It has another wing of Gurmat Sangeet, which deals with Sikh religious hymns.

In addition, for the upliftment of the backward castes, the university offers various programmes. Under these programmes, in 2004, the university set up the Yadavindra College of Engineering at Talwandi Sabo.
The Guru Gobind Singh Bhawan: It covers 84 acres of land and has a built-up area of 3.75 lakh sq. ft. The university spent Rs.25 crore on the state-of-the-art infrastructure which consist of seven computer labs, boys' and girls' hostels, play fields, a mechanical engineering workshop and a language lab for improving rural students' communication skills. Rs 1.10 crore were spent by the university on the renewal of equipments used by the neighborhood campuses. The university has announced vocational courses for these campuses. The Planning Commission of India has sanctioned Rs 10 crore for betterment of these campuses. The University allocated another Rs 10 crore for the fixed assets of campus.

The University College of Engineering (UCoE) which was established in 2003, now has become the second preferred engineering institute in Punjab, with a placement rate of 95 percent. It has the second largest building infrastructure in Punjab.

Category: